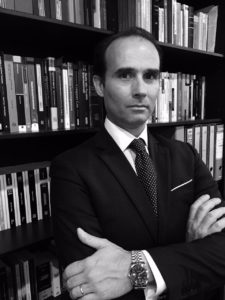 ML Law was founded by Michele Levi, an esteemed Milanese lawyer who, since 1999, has acted mainly in the fields of corporate, commercial and civil property law both nationally and internationally.
hanks to the numerous partnerships that Michele Levi has established and consolidated over the years with many professionals both nationally and internationally, ML Law is capable of offering consultancy and assistance not only on legal matters, but also for financial and tax issues, both locally and in the main foreign markets: London, New York, Miami, Hong Kong 

Passion, dedication, commitment, as well as a high level of professionalism and specialisation, are the strengths of Michele Levi, who always stands by his clients' side, which is why ML Law is an excellent and valid alternative to larger law firms, ensuring a proper personal client/lawyer relationship.
Michele Levi was born in 1972 in Milan, where he still lives. Having embarked on his studies, he started practising law before he even graduated at the Anhurst Brown Colombotti Law Firm in London, where he stayed from 1996 to 1998, developing his knowledge and experience in the field of corporate law, mergers and acquisitions, as well as typically Anglo-Saxon legal institutions, such as trusts.
Upon his return to Milan, he graduated in Law at the University of Milan in the academic year 1997/1998.
After graduation, he worked at the Avvocato Serra Law Firm, with a focus on litigation, and at the Puopulo Sistilli Geffers & Luise Law Firm, in the international corporate law department.
In 2001, as a co-founder, he established the Levi da Pozzo Law Firm, a partnership that continued until June 2017, with a focus on corporate, international commercial and property law.
Michele Levi likes to spend his free time travelling with his family and enjoying sports: he is an excellent sailor, an activity he shares with many clients, a keen fencer, and an amateur windsurfer.